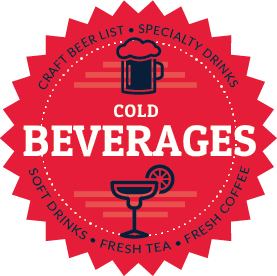 Draft beer comes in three sizes: pint, 23oz and tower.
Each location varies in their draft beer selection based on breweries local preferences. Please see individual location pages for their specific lists.
Carolina Blue, Melon Maker, Scooby Snack, Cranapple Bomb, Island Bomb, Caramel Apple, The Pickle Back
Strawberry Mango, Original Cruzan Rum Bucket
Vista Point Merlot, Hogue Merlot, Vista Point Cabernet, 10 Span Cabernet, Save Me San Francisco Pinot Noir, Frontera Malbec
Vista Point Chardonnay, Cupcake Chardonnay, Vista Point Pinot Grigio, Cupcake Pinot Grigio, Hogue Riesling, Vista Point White Zinfandel
Kicked Up Bloody Mary, Tropical Crush, Autumn Sunset, A Piece Of Paradise, White Peach Sangria, Jack's Long Island Iced Tea, Purple Rush Margarita, Tequila Sour, The Rider, Pink Shandy, The Angry Apple, Blueberry Cooler
Draft Beer
Premiums
Cotu Main Street Virginia Ale

Blue Point Brewing Co. (Rotating)

Devil's Backbone 8 Point IPA

Devil's Backbone Vienna Lager

Legend Brewing (Rotating)

Strangeways Brewing Albino Monkey

Left Hand Nitro Milk Stout

Rogue Hazelnut Brown Nectar
Wine
Wine can be purchased by the glass or by the bottle. 
Red Wine
Save Me San Francisco Pinot Noir
White Wine
Vista Point White Zinfandel
Non-Alchoholic Beverages
Pepsi, Diet Pepsi, Mountain Dew, Dr. Pepper, Sierra Mist