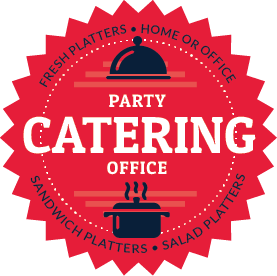 Our party platters will serve approximately 5-6 people.
Fried, Grilled, or Dry Rubbed with your choice of sauce. Comes in orders of 50 or 100. Sauce choices are: Mild Buffalo, Hot Buffalo, Honey Buffalo, Buffalo Garlic, Honey Barbecue, Sweet Thai Chili, Lemon Pepper Seasoning
50 Wings  $42.99 / 100 Wings $81.99
A big portion of thinly sliced deli fresh turkey, crisp bacon strips, American cheese, lettuce, tomato and mayo. Served on flat bread.
$36.99
Philly Cheese Steak Sandwich Platter
Thinly sliced seasoned steak grilled and topped with grilled onions and melted cheese, served on a fresh baked French roll.
$38.99
Chicken Philly Sandwich Platter
Thinly sliced chicken and grilled onions smothered in melted cheese on a fresh baked French roll.
$38.99
Sub rolls stacked with salami, ham, pepperoni, mozzarella cheese, lettuce, tomato, red onions, Italian dressing and mayo served hot.
$38.99
Chicken tenders, mozzarella sticks and fried pickles.
$39.99
A platter full of battered and fried chicken tenderloins served with honey mustard.
$33.99
Freshly mixed greens, black bean salsa, fresh corn and pico de gallo all tossed in our homemade balsamic dressing. Then topped with chicken, Cheddar Jack cheese and fried tortilla strips served with a cheese quesadilla.
$32.99
Fresh mixed greens with grated cheese, crisp bacon, crunchy croutons and diced tomatoes. Freshly grilled chicken served on the side for you to add with your choice of dressing.
$32.99
Romaine tossed in our Caesar dressing topped with Parmesan cheese and croutons.
$13.99
Mixed greens topped with diced tomatoes, eggs and bacon. Served with your choice of dressing.
$13.99
Our premium tender, fall-off-the-bone barbecued ribs glazed with our delicious barbecue sauce.
$44.99
Barbecued chicken breast served over fusilli pasta in a spicy Cajun cream sauce, highlighted with Jack and cheddar cheese and pico de gallo.
$37.99
Made especially for kids, this tray is packed with their favorites! Grilled cheese, mini cheeseburgers and chicken tenders served with honey mustard.
$25.99
1 gallon of tea (sweet or unsweet)
$4.99
Draft Beer
Premiums
Cotu Main Street Virginia Ale

Blue Point Brewing Co. (Rotating)

Devil's Backbone 8 Point IPA

Devil's Backbone Vienna Lager

Legend Brewing (Rotating)

Strangeways Brewing Albino Monkey

Left Hand Nitro Milk Stout

Rogue Hazelnut Brown Nectar
Wine
Wine can be purchased by the glass or by the bottle. 
White Wine
Vista Point White Zinfandel
Non-Alchoholic Beverages
Pepsi, Diet Pepsi, Mountain Dew, Dr. Pepper, Sierra Mist

Durham location only: Coke, Diet Coke, Sprite, Mello Yello, Mr. Pibb, Hi-C

$1.99