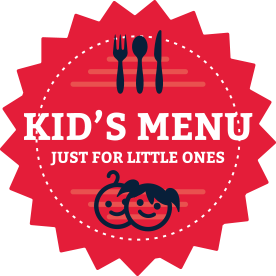 Available side items: Hand-cut french fries, broccoli, mac & cheese, applesauce or baked beans.
This mac & cheese is creamy and cheesy! Served with a side item of choice.
$4.29
Freshly fried chicken tenders served with honey mustard and a side item of choice.
$4.29
A kids taste of Mexico! A warm cheesy quesadilla with an option to add chicken and bacon plus a side item of choice. Add Chicken or Bacon for $0.99.
$4.29
The best kids burger in town! Your choice of side item.
$4.29
Delicious pepperoni pizza served with side item of choice.
$4.29
Five cheesy, warm mozzarella sticks served with marinara sauce and side item of choice.
$4.29
Includes tea, soft drink, or milk.
$1.00
Draft Beer
Premiums
Cotu Main Street Virginia Ale

Blue Point Brewing Co. (Rotating)

Devil's Backbone 8 Point IPA

Devil's Backbone Vienna Lager

Legend Brewing (Rotating)

Strangeways Brewing Albino Monkey

Left Hand Nitro Milk Stout

Rogue Hazelnut Brown Nectar
Wine
Wine can be purchased by the glass or by the bottle. 
White Wine
Vista Point White Zinfandel
Non-Alchoholic Beverages
Pepsi, Diet Pepsi, Mountain Dew, Dr. Pepper, Sierra Mist

Durham location only: Coke, Diet Coke, Sprite, Mello Yello, Mr. Pibb, Hi-C

$1.99