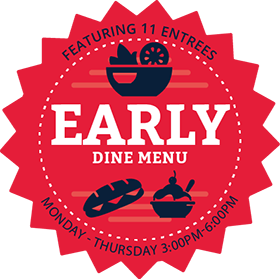 Monday - Thursday 3:00 pm - 6:00 pm | View our full menu here!
Be sure to check out our delicious sides dishes to add to any meal!
Grilled chicken breast nestled on top of our mixed greens with shredded Monterey Jack and cheddar cheeses, bacon, croutons, fresh diced tomatoes and topped with almonds.
$8.99
Grilled chicken breast served over mixed greens with candied roasted pecans, fresh blueberries, mandarin oranges, feta cheese, strawberries and Raspberry Walnut Vinaigrette.
$8.99
Lightly marinated grilled chicken breast served over crisp romaine lettuce tossed with Caesar dressing and Parmesan cheese.
$8.99
A fresh chicken breast marinated, grilled and topped with mayonnaise, lettuce, tomato, cheddar cheese and bacon on a brioche bun.
$8.99
Delicate, flaky founder fillet lightly breaded, finished to a golden perfection and served with fresh hand-cut fries and homemade coleslaw.
$8.99
Juicy, plump grilled chicken breast served with fresh broccoli and a baked potato.
$8.99
PHILLY CHEESESTEAK SANDWICH
Thinly sliced seasoned steak grilled and topped with grilled onions and melted cheese, served on a fresh baked French roll.
$9.29
Thinly sliced chicken and grilled onions smothered in melted cheese on a fresh baked French roll.
$9.29
Topped with lettuce, tomato, bacon, American cheese, fried pickles and mayonnaise.
$9.29
Lightly breaded chicken tenderloins, fresh hand-cut fries and creamy coleslaw. Served with honey-mustard.
$9.29 
Tie on a napkin for this plate of premium tender, fall-off-thebone barbecued ribs. Glazed with delicious barbecue sauce and served with baked beans and hand-cut fries. A rack and a half.
$15.59
Draft Beer
Premiums
Cotu Main Street Virginia Ale

Blue Point Brewing Co. (Rotating)

Devil's Backbone 8 Point IPA

Devil's Backbone Vienna Lager

Legend Brewing (Rotating)

Strangeways Brewing Albino Monkey

Left Hand Nitro Milk Stout

Rogue Hazelnut Brown Nectar
Wine
Wine can be purchased by the glass or by the bottle. 
White Wine
Vista Point White Zinfandel
Non-Alchoholic Beverages
Soft Drinks, Iced Tea, Bottled Water, Coffee, or Ice Cold Milk

Pepsi, Diet Pepsi, Mountain Dew, Dr. Pepper, Sierra Mist - $1.99

Durham location only: Coke, Diet Coke, Sprite, Mello Yello, Mr. Pibb, Hi-C - $1.99

Iced Tea, Bottled Water, Coffee, or Ice Cold Milk - $1.99