Check out all of our menu offerings below!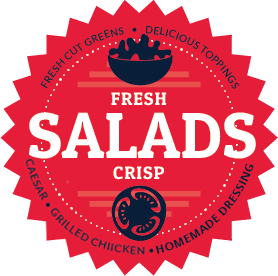 Salad Dressing Options: Ranch, Honey Mustard, Bleu Cheese, Italian, Raspberry Walnut Vinaigette, Thousand Island, Balsamic Vinaigrette.
Substitute On Any Entrée Salad: Grilled Salmon +2.99, Grilled Shrimp +1.99 and Fried Chicken Tenders +.99
Lightly marinated grilled chicken breast served over crisp romaine lettuce tossed with Caesar dressing and parmesan cheese. 
$8.89
Fresh mixed greens topped with diced tomatoes, eggs and bacon. Served with your dressing of choice.
$3.99
Romaine tossed in our Caesar dressing, topped with Parmesan cheese and croutons.
$3.89
Chili & Salad Lunch Combo (11am-3pm)
A bowl of chili and your choice of a garden or Caesar salad.
$6.79
A taste of Mexico in our freshly mixed greens, black bean salsa, fresh corn and pico de gallo all tossed in our homemade balsamic dressing. Topped with chicken, Cheddar Jack cheese, chipotle ranch and fried tortilla strips served with a cheese quesadilla. 
$9.29
Grilled chicken breast nestled on top of our mixed greens with shredded Monterey Jack and cheddar cheeses, bacon, croutons, fresh diced tomatoes and topped with almonds. 
$9.59
Grilled chicken breast served over mixed greens with candied roasted pecans, fresh blueberries, mandarin oranges, feta cheese, strawberries and Raspberry Walnut Vinaigrette.
$9.59
Draft Beer
Premiums
Cotu Main Street Virginia Ale

Blue Point Brewing Co. (Rotating)

Devil's Backbone 8 Point IPA

Devil's Backbone Vienna Lager

Legend Brewing (Rotating)

Strangeways Brewing Albino Monkey

Left Hand Nitro Milk Stout

Rogue Hazelnut Brown Nectar
Wine
Wine can be purchased by the glass or by the bottle. 
White Wine
Vista Point White Zinfandel
Non-Alchoholic Beverages
Pepsi, Diet Pepsi, Mountain Dew, Dr. Pepper, Sierra Mist

Durham location only: Coke, Diet Coke, Sprite, Mello Yello, Mr. Pibb, Hi-C

$1.99